Welcome to Noteworthy Sheet Music!
Your source for transcriptions, original compositions, and rare historic scores
- specializing in, but not limited to, flute and alto flute music
- the website is best viewed using FireFox or Chrome - not Internet Explorer
Note: we have noticed that the Buy Now button occasionally fails to work, for unknown reasons; until this problem is solved, if it happens to you, please try refreshing the page or use the Add to Cart button instead. If you need assistance, use the Contact Us form and we will reply to help as soon as possible.

• High quality sheet music ... accurate, clear, and conveniently formatted
• Attractive pricing, secure on-line payment via PayPal
• Instant delivery of e-copies ... just download a pdf and print
• Looking for fresh repertoire?
– Check out our carefully crafted transcriptions - play Brahms & Schumann
on your alto flute!
– Explore facsimiles of 19th century scores from the private collection of a
distinguished American flutist
– Try an original arrangement of an old favorite from the classics
– Discover newly-published contemporary compositions
– Ask us about our custom transcription service
• Sign up to receive our Newsletters
• Inventory is added to our site regularly, so please visit us again soon to view our new selections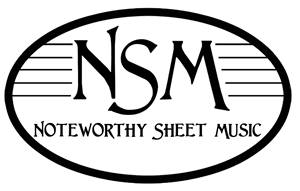 Visit us on Facebook at https://www.facebook.com/Noteworthy.Sheet.Music
... on Chamber Music America at http://www.chamber-music.org/member/noteworthy-sheet-music
... and on Instagram at https://www.instagram.com/noteworthysheetmusic/
Follow us on Twitter at https://twitter.com/NoteworthyNSM